Bipal Grit is a natural biological product with vitamins, minerals and amino assets that are necessary for health and good balance in the nutrition of pigeons.
Its high content of vitamins, amino acids and mineralsmake it particularly suitable for preventing diseases associated with states of deficiency.
It is appropriate to use Bipal Grit for pigeonsas a regulator of the digestive system and to improve fertility, so that the hatchlings are born strong and healthy.It should also be used to provide faster and stronger moulting.
With Bipal Grit for pigeons we are able to:
Put an end to deficiency diseases currently suffered by most pigeons and other types of birds.
Obtain pigeon hatchlings that are born strong and healthy
Strengthen the body's defences.
Save considerably on medicines.
Obtain fast moulting, with the growth of new, long, strong, dense and healthy feathers.
Improve the parents' fertility. Approximately 20% more hatchlings.
Psittacidae stop eating their own droppings (start of many diseases).
Eliminates digestive disorders and therefore dietary diarrhoea (soft droppings).
Storage
In a dry, fresh and preserved place of light.
How to use
Put at your disposal throughout the year.
Summary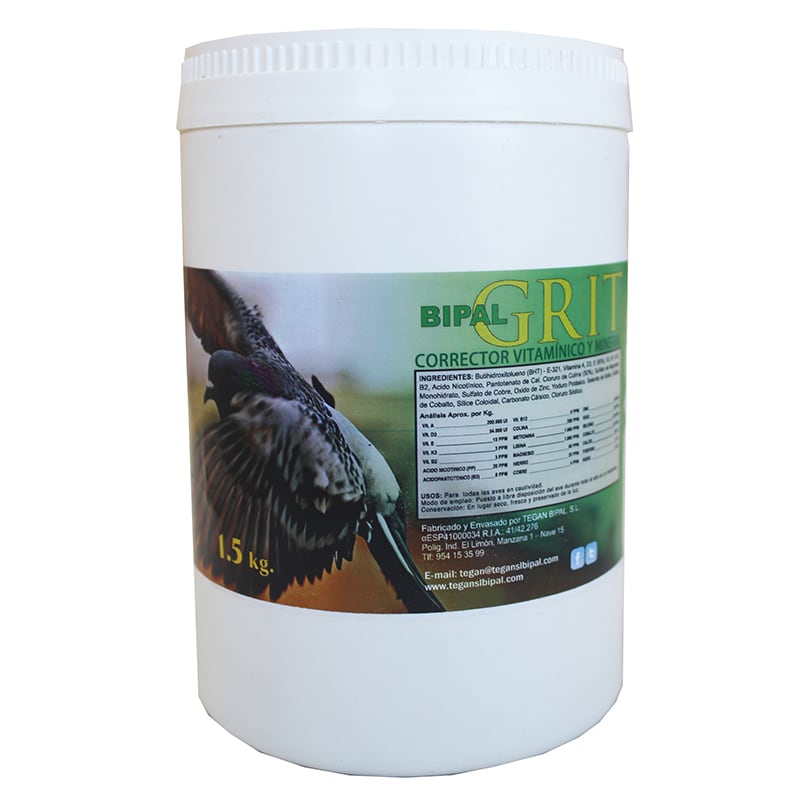 Author Rating





Brand Name
Product Name
Grit Vitamínico y mineral para palomos
Price
Product Availability